About Us
The Trust, a NZ registered charity, started in 2013. Our patron is Helen Clark, Prime Minister of New Zealand from 1999 to 2008, and Administrator of the United Nations Development Programme from 2009 to 2017. Our trustees are volunteers who live locally and are passionate about conservation.


Noel Saxon - Chair
Noel has lived in Queenstown with his family for twelve years, the past eight as General Manager at Ultimate Hikes. A West Coaster at heart, with a background in the building and project management industry, he also has a keen interest in outdoors adventuring - tramping, hunting and participating in multi sports events.
Noel has a keen sense of the tourism industry especially operating responsible tourism activities in and around some of our national parks. He works closely with the Department of Conservation and other tourism operators managing guided walking activities on the Milford and Routeburn Tracks. He is very aware of the privilege of showcasing the habitats and wonders of this country's natural landscapes and wildlife to people from New Zealand and around the world.
Geoff Hughes - Executive Officer

Geoff is from the UK, emigrated over to New Zealand in 1997 with his wife Caroline and both have been happily living in Queenstown for the last seven years. Geoff is our Executive Officer and started working for the trust shortly after moving to Otago. He is a retired hospital doctor, having worked in the UK, NZ and Australian health systems, a keen birder (his favourite bird changes regularly) and a huge lover of the outdoors. Geoff has an interest in conservation and has been fortunate to travel extensively, visiting many wilderness and conservation areas around the world.
Geoff's priority for the trust is to ensure we can support the growth in our activity of recent years by ensuring we get enough income to do so, something that is a perennial issue for all community conservation trusts like the RDWT. Fundraising is hard work and there is never a guarantee of long term funding. The trust's profile and reputation is well known locally and it is vitally important to maintain that. 
Geoff says that "an important development for us in the last 12 months is a new focus to try and control feral cats. We are starting to see some progress with this which is very encouraging." He wants to protect this wonderful place, reckons that it is a privilege to live in this beautiful part of the world and also appreciates having the opportunity to make a contribution to conservation through his role with RDWT
Trustees
Greg Lind



Greg was a foundation staff member when the Department of Conservation (DOC) was formed in 1987 having been with the NZ Forest Service for 13 years and National Parks and Reserves (Department of Lands and Survey) for three years.
During 32 years with DOC, Greg was based in various field locations from the Catlins, Rakiura/Stewart Island, Invercargill (including the NZ subantarctic islands), Queenstown/Whakatipu and finally Fiordland National Park. The roles were mainly operational management but included managing concessions for Southland, Queenstown and Fiordland National Park. The latter location included the most complex demands in DOC, with three Great Walks and large-scale conservation projects (Takahe – Murchison Mountains; Resolution and Secretary Islands).
He was closely involved in developing the Queenstown Trails Trust. Since retiring in 2019, he is now Co-Chair of Southern Lakes Sanctuary Trust, a trustee on the Routeburn Dart Wildlife and Mokihi Reforestation Trusts and a Conservation Advisor for the Nature Fund. 

Helen Clark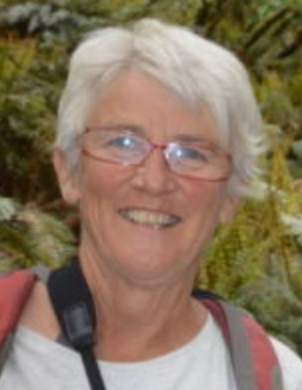 Helen has spent more than 20 years in and around the Mt Aspiring National Park, predominantly in the Routeburn and Dart areas, both tramping and working in the biodiversity field for the Department of Conservation. She has knowledge and a huge appreciation of local fauna and flora, along with a dedication to help maintain and restore the birdsong of the Routeburn and Dart.
Living in Glenorchy and teaching at Glenorchy School, she is keen to promote the education of both children and adults to understand the uniqueness and the plight of the local wildlife, and how individuals can help to protect them.
Amanda Gatward-Ferguson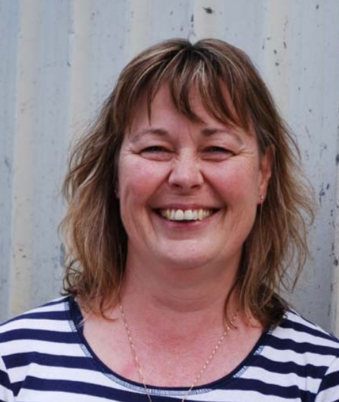 From the UK, Amanda has been in Queenstown for over 23 years after escaping corporate London. In 1984, with a degree in Geography, she worked for The Crown Estate Office in the finance department; after later winning a bursary she qualified as a Management Accountant.
A six month working holiday in Australia started the travel bug; after returning to the UK for five years and meeting her future husband, the time came to do something different. New Zealand beckoned.
Amanda and David have owned and run Nomad Safaris tour company since 1994. A keen advocate and practitioner of sustainability and conservation, projects include Wilding Pine control and reinvigorating the New Zealand Gold Panning Championships. The RDWT adds another dimension by focusing on fauna in addition to flora and geology.
Amanda Hasselman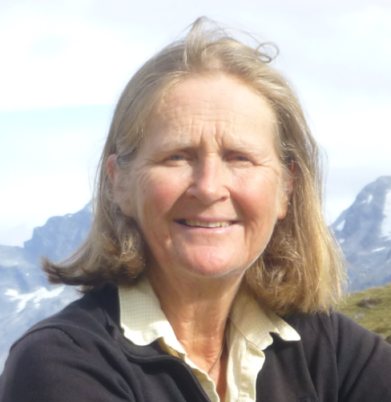 Amanda has farmed in Glenorchy for over 40 years now alongside husband Mark and has enjoyed exploring the surrounding hills with family and friends. She is a great source of local knowledge for our field crew!
Originally from Suffolk in England, Amanda graduated with a degree in Geography and set off to see the world, eventually ending up in stunning Glenorchy. She works on the farm which is now Carbon Zero certified, and confirms it is a lifestyle where the focus is on living within the constraints of the environment.
Amanda says that being a part of the Trust is a great opportunity to help make a difference to local biodiversity and contribute towards Predator Free NZ. She is very involved in the local community and keen to see RDWT thrive so that future generations can still hear deafening birdsong on the mainland. 
Kevin Jennings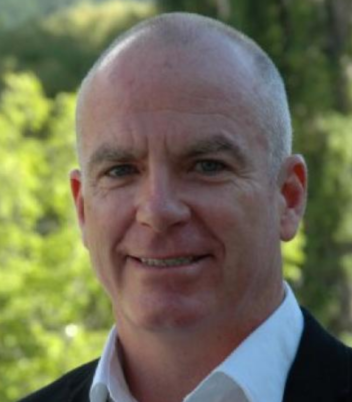 From California, KJ moved to Queenstown in 1987 and was an original Jump Master when AJ Hackett Bungy opened in 1988; he also worked with the government to establish a Code of Practice for bungy jumping.
He has organized mountain bike events locally and nationally, including the Mt. Alfred Challenge, raising funds for the Paradise Trust. KJ is executive manager of Film Otago Southland - a regional film office that liaises with the industry, government, and community.
He is on the board of the AFCI (Association of Film Commissioners International) and chairs the Digital Media programme at the Southern Institute of Technology. He is a keen outdoorsman and lover of nature.
Our Field Crew
Rusty Varcoe
Russell (Rusty), a long term local of Glenorchy, installed and looks after a whopping 600+ traps all around the town and surrounds.

Rusty has been a contractor of the Trust since 2017 but began trapping in 2011 after noticing quite a few stoats slinking around the local lagoon. His pup couldn't catch them, so he decided to!
Rusty also helps organise our annual river bird counts and often helps out with pest control on New Zealand's offshore islands so is really doing his bit to protect our special taonga species on a national level.
Jobs For Nature - 

Mahi

 mō te Taiao
Chrissy Becker-Fifield  
Chrissy moved over from the UK back in 2015 and decided to make her home here after falling in love with Aotearoa's papatūānuku. She has recently moved to Glenorchy and can't get enough of the beautiful landscape and community spirit here. She is also a trustee for the Whakatipu Wildlife Trust based in nearby Queenstown.
As a former wildlife keeper for Queenstown's Kiwi Park, Chrissy enjoys being able to apply her passion and knowledge of New Zealand's taonga species in the field through this role. She carries out pest control and bird monitoring in the Routeburn Dart, Greenstone and Rees areas for the trust and for Southern Lakes Sanctuary. She also maintains our Facebook and Instagram pages and loves engaging with the online community. Although a huge animal lover of all critters, her main priority and interest lies in protecting biodiversity. 
Just wanted to congratulate you on your predator control work. So many small birds compared to this time 6 years ago!
Ali
UK
I recently visited the area around Glenorchy and walked the Routeburn to the second hut. I saw and heard some lovely birds. Keep up this crucial work.
Daniela
Germany
Fantastic work guys!
Sal
USA
Congratulations on your projects. The birds are beautiful
Luis
Spain
I saw one Kākā and quite a few Kākāriki in Rock Burn Valley yesterday! Thanks team for great work
Daiki Kato
NZ
The cost to bait all the river traps
The cost to maintain accurate predator data
The cost to complete an annual bird count on the rivers
The cost to check and reload all the river traps
The cost to check and reload one river trap for a year
The cost to check and reload ten river traps for a year